Posted on: 09 08 2022.
EDIT 2022 – How Comtrade 360 hacked the learning curve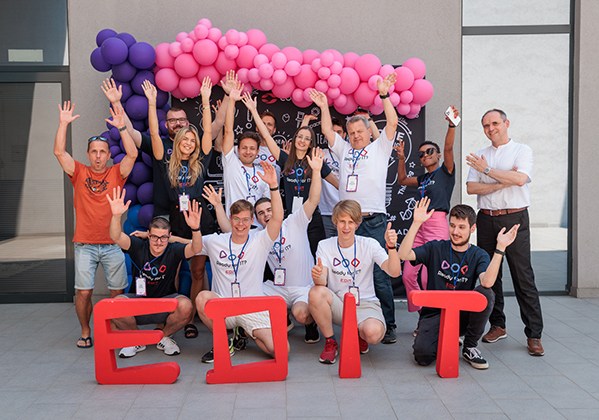 For the 26th time, and with a ceremony held on Friday, July 29th, 2022, Comtrade 360 in partnership with Comtrade group successfully closed this year's EDIT summer IT school!
EDIT has evolved to become one of the largest and most sought-after summer IT schools in the region. And this year, since the world rapidly changed its approach to work, we decided to go hybrid. Our students worked online together on the projects beforehand and then got the chance to meet each other and the Comtrade 360 team in three of our locations – Belgrade Serbia, Sarajevo Bosnia & Herzegovina, and Ljubljana Slovenia for a general introductory session and fun teambuilding activities that helped our students network, collaborate with the team, and learn useful skills that will help them as their career progresses.
We broadened our summer school program this year and provided valuable hands-on experience to all who attended the program. In total, 118 students from three countries participated, we had 19 teams, and 20 mentors in all! While students and mentors worked in international teams with colleagues from Slovenia, Serbia, and Bosnia and Herzegovina, the live events organized included open days, as well as team interaction in regional Comtrade 360 offices.
This year, EDIT students worked on three different topics for their IT projects:
Anomaly detection in air traffic
Bring it to life with React Native
Start your future with a low-code platform
The topics were designed specifically to resemble a typical IT workday, where attendees had a chance to work with microservice architecture, React Native platform, and in a low-code environment. The purpose was to create hands-on experience so the students can understand what it would look like once they start working in real life.
We are thrilled to announce that this EDIT generation demonstrated a tremendous amount of talent, knowledge, and enthusiasm: with their motivation and skillsets, we are certain that amazing things await them!
We want to thank everyone who supported us throughout this journey as we continue to focus on assisting future generations of IT professionals prepare for the job market while shaping the future.
Our gratitude to everyone who participated in this year's EDIT. We look forward to seeing you all again next year, and meanwhile, enjoy a LOOK BACK at the EDIT 2022 highlights!