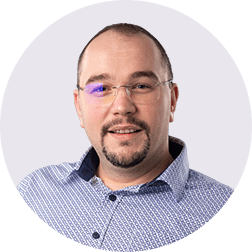 Nenad Andrejić
Senior Product Manager
Nenad Andrejić is a Senior Product Manager at Comtrade 360.
He started his career in Comtrade Group as a Junior Developer under one of the mobile projects where he successfully created several solutions for mobile platforms, alongside a team of 25 other developers. Afterwards, he became a front-end web developer and eventually rose to the position of Tech Lead under one of Comtrade's Enterprise Monitoring Solutions Projects.
Over time, he gained immense tech experience to become a Scrum Master and ultimately, a Product Manager. He is currently responsible for 5 independent teams of about 60 people, helping them implement the project vision and achieve success.
Nenad has an MBA degree from the faculty of Electrical engineering in Belgrade, Serbia.