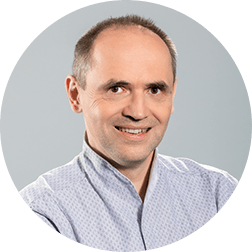 Gregor Molan
Head of Research and AI
Gregor Molan is a computer scientist with a background in discrete mathematics.
Based on decades of experience in computer data storage, he initiated the collaboration with CERN openlab and the productization of CERN EOS. Since 1996, he has led numerous research projects co-funded by the EU and Slovenia. He recently completed the EUTYPES project, funded under the COST (European Cooperation in Science and Technology) action for research on type theory, and the vINCI framework for augmented professional healthcare project – funded under the AAL EU program.
During his long career at Comtrade, Gregor has also shown an active interest in the application of mathematical models to the study of human and machine-based systems.
He is Comtrade's representative in academia, responsible for collaborations with researchers and research institutes, and an active participant in global basic scientific research projects. He is responsible for initiating and overseeing all research efforts within Comtrade, as required by the company.
Gregor holds a Bachelor's degree in Mathematics and a Master of Science in Computer Science, both from the University of Ljubljana, Slovenia.